FEATURES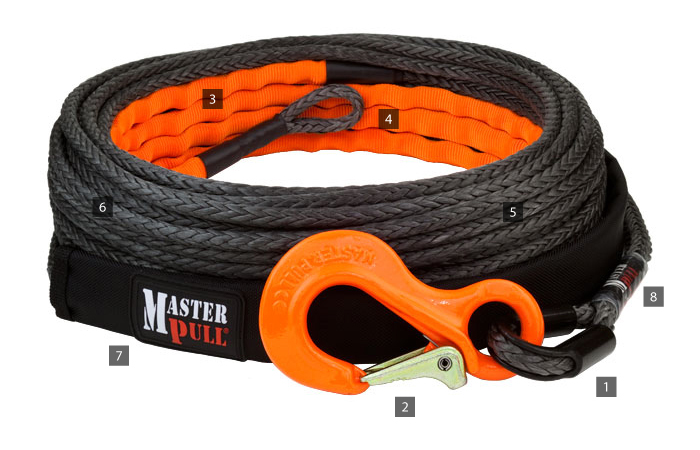 Heavy duty tube thimble for superior eye protection
Both hook options, either Grade 100 or Grade 110, are not only superior quality but very lightweight and strong
Heat resistant sleeve protects against drum heat and abrasion
Universal drum attachment compatible with most winches
Made with genuine SK75 Dyneema fiber - high abrasion resistance and excellent tensile strength
Coated with polyurethane added UV and chemical resistance
Removable Rock Guard included for extra protection against chafe and wear
Labeled with breaking strength and diameter
Made in the USA
SPECIFICATIONS
| | |
| --- | --- |
| Diameter | 7/16" (11 mm) |
| Breaking Strength | 21,500 lbs (9,800 kg) |
| Recommended Winch Rating | 10,000 - 15,000 lb (4,540 - 6,800 kg) |
| Material | Dyneema SK75 synthetic fiber |
OVERVIEW
Back in late 90's, Master Pull started experimenting with installing synthetic winch lines on recreational off road vehicles. At the time, off roaders had never seen anything like it. We told them that synthetic ropes were lighter, stronger and safer than steel wire rope. Most people told us we were crazy. It took some time, but people finally realized the benefits that synthetic rope had over steel wire. Ever since we have strived to offer the highest quality synthetic winch lines available.
The Classic Winch Line is an ode to the original winch line that Master Pull started selling over 15 years ago, but with a modern twist. We've taken all the enhancements over the years and encompassed them all into the Classic: heavy duty thimble, lightweight hook, universal drum attachment, detachable Rock Guard, high visibility heat guard - all these things make the Classic the best bang for your buck winch line available.
The best part is, the Classic Winch Line is hand spliced here in the USA, when you order it. There's no inferior imitation materials used here. Master Pull quality at an affordable price.
ADVANTAGES
OVER STEEL WIRE ROPE
Safer than steel wire rope
Stronger than steel wire rope
Extremely lightweight makes it easy to use
Floats in water
Torque-free
No more cut hands from wire splinters or burrs
Will not kink like steel wire rope
Will not rust
The Master Pull Classic Winch Line was designed to be extremely lightweight and tough. We use heavy duty tube thimbles in the eyes for ultimate protection. The optional hooks are specially designed for use with synthetic rope to be both strong and lightweight. On the drum end, the line is covered with a heat resistant sleeve to both protect from winch brake heat and drum abrasion. The bright orange color also helps signal that the line is on the last wrap of the drum. The universal drum attachment includes hardware compatible with most winches. For additional abrasion protection, the Classic includes our removable Rock Guard. This chafe guard can be velcroed on the line if it has to run over rocks or trees to protect it from damage.
The Classic Winch Line is made in the USA out of genuine Dyneema SK75 synthetic fiber, which has many benefits over steel wire rope. The Classic Winch Line is so light, that in the event of breakage it will not violently snap back like steel wire rope will, making it much safer. The reduced weight also allows for easier use than steel wire, and the soft fiber will not cut hands with splinters or burrs. On top of all these benefits, size for size, the Classic Winch Line is stronger than the steel wire counterpart.